December 21, 2013 by History in a Hurry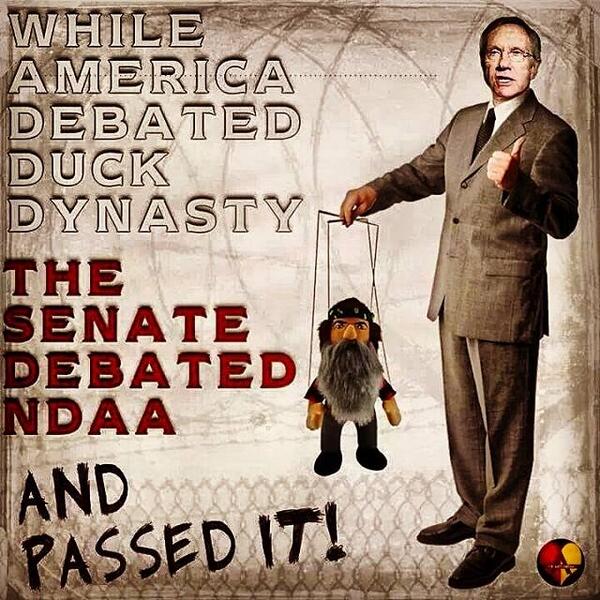 While #America debated #DuckDynasty the #Senate debated #NDAA &PASSED IT. #StopTheDistractions #anonfamily #Anonymous http://t.co/83IkuEjtZn—
████infomiss████ (@f3man0n) December 20, 2013
****
NDAA 2014 is even worse than the last two NDAA's, according to this article in The New American:
Congress Rushing to Approve 2014 National Defense Authorization Act (NDAA)
Written by Joe Wolverton, II, J.D.
The House and Senate Armed Services Committees have reached an agreement on the fiscal year 2014 National Defense Authorization Act (NDAA).
[…]
Reading the mainstream (official) press, one would believe that the NDAA is nothing more nefarious than a necessary replenishing of Pentagon funds. Readers of The New American know, however, there is much more than budget issues contained in the legislation.
For two years, the NDAA included provisions that purported to authorize the president of the United States to deploy the U.S. military to apprehend and indefinitely detain any person (including an American citizen) who he believes "represent[s] an enduring security threat to the United States."
Such an immense grant of power is not only unconscionable, but unconstitutional, as well.
Regardless of promises to the contrary made every year since 2011 by President Obama, the language of the NDAA places every citizen of the United States within the universe of potential "covered persons." Any American could one day find himself or herself branded a "belligerent" and thus subject to the complete confiscation of his or her constitutional civil liberties and to nearly never-ending incarceration in a military prison.
Finally, there is in the NDAA for 2014 a frightening fusion of the federal government's constant surveillance of innocent Americans and the assistance it will give to justifying the indefinite detention of anyone labeled an enemy of the regime.
Section 1071 of the version of the 2014 NDAA approved by the House and Senate committees this week expands on the scope of surveillance established by the Patriot Act and the Authorization for the Use of Military Force (AUMF).
[…]
Continue reading:
http://thenewamerican.com/usnews/congress/item/17154-congress-rushing-to-approve-2014-ndaa